Here is an introduction to several amazing and pioneering women in sports
Babe Didrikson

By Unknown (Toronto Star) - [1], Public Domain, Link

By CBS - [1], Public Domain, Link
Babe Didrikson is known for playing multiple sports throughout her life, some of which are: basketball, baseball, javelin, high jump, hurdles, and golf. She was born on June 26, 1911 and died on September 27, 1956. She played professional golf and won 10 LPGA major championships making her currently ranked 4th for winning the most LPGA major championships.
Simone Biles

By Agência Brasil Fotografias - EUA levam ouro na ginástica artística feminina; Brasil fica em 8º lugar, CC BY 2.0, Link

By Fernando Frazão/Agência Brasil - Ginasta holandesa ganha ouro nas traves, CC BY 2.0, Link
Simone Biles is an American Gymnast, who has won 19 Olympic and World Championship medals. By age 10 she was a level 8 gymnast, and by age 14, she was competing at a junior elite level. She was born in Ohio, on March 14th, 1997.
https://www.biography.com/people/simone-biles-051816
Wilma Rudolph

By Henk Lindeboom / Anefo - Nationaal Archief, CC BY-SA 3.0 nl, Link

By New York World-Telegram and the Sun Newspaper Photograph Collection. - NYPL Digital, Public Domain, Link
Wilma Rudolph was an African- American sprinter, who became a world record holder for in the Olympics, even after being told that she would never walk again as a child. She suffered from polio and scarlet fever as a child but managed to push through it. Wilma was born on June 23, 1940, in Saint Bethlehem, Clarksville, Tennessee and died on November 12, 1994.
Gertrude Ederle

By Bain News Service, publisher - This image is available from the United States Library of Congress's Prints and Photographs division under the digital ID ggbain.37118. This tag does not indicate the copyright status of the attached work. A normal copyright tag is still required. See Commons:Licensing for more information., Public Domain, Link
Gertrude Ederle was the first female to swim across the English Channel. It took nineteen-year-old Gertrude 14.5 hours to make the 35-mile swim. She beat the men's record by almost 2 hours. She was given the nickname "Queen of the Waves," after competing in and winning multiple Olympic races. Gertrude was born on October 23, 1905, in Manhattan, NY. She passed away on November 30, 2003.
Jackie Joyner-Kersee

By Unknown - [1] [2], Public Domain, Link
Jackie Joyner-Kersee was the first woman to earn over 7,000 points in a heptathlon. She is considered to be one of the greatest athletes in the heptathlon and in the long jump. Jackie has won many medals in the Olympics and throughout her career. She was born in East St. Louis, IL on March 3, 1962.
Mia Hamm

By Johnmaxmena2 - Own work, CC BY-SA 4.0, Link
Mia Hamm was a professional soccer player. She played for the U.S national team and originally held the record for the most goals scored in the international league for both men and women until she was beaten by Abby Wambach in 2013. She won two World Championships in 1991 and 1999. She was born on March 17, 1972, and made a total of 267 appearances in games for the national team.
Billie Jean King

By KingEnterprises - Jonathan Exley was contracted to photograph Billie Jean King and my organization owns the rights to it. Previously published: http://www.WTT.com/Pictures/Billie Jean King photo.jpg, CC0, Link
Billie Jean King was the world's number one professional tennis player. She won 39 total Grand Slam Titles, 12 in singles, 16 in women's doubles, and 11 in mixed doubles. One of the things she is better known for is winning the Battle of The Sexes, against Bobby Riggs. A popular movie was made about this tennis match and is called Battle of the Sexes.
Julie Krone

By Harlan1000 - Own work, CC BY-SA 3.0, Link
Julie Krone was the first woman jockey to win the Triple Crown. Born in Benton Harbor, Michigan in 1963, she also became the first female jockey to win over 3,500 races in her career.
Manon Rhéaum

By Krista Windsor - Manon Rheaume, CC BY-SA 2.0, Link
She is the first woman to ever play in any of the major North American professional sports. Manon Rhéaume played professional hockey and is a silver medalist for the Olympics. She was born on February 24, 1972, in Québec, Canada, where she ended up playing hockey.
Lily Parr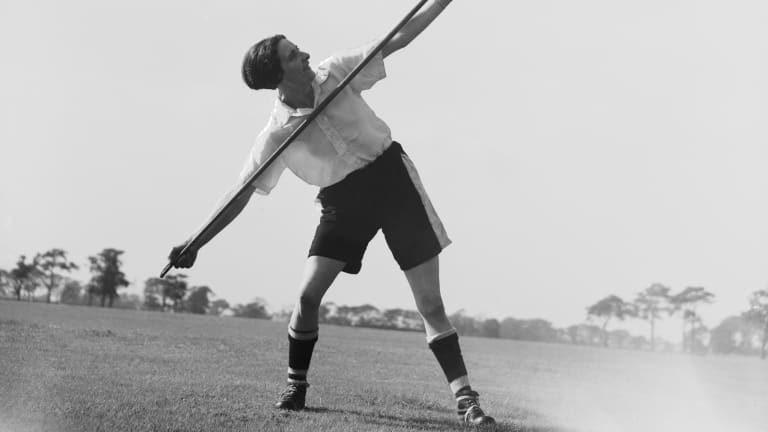 Lily Parr played as an English soccer player for the Dick, Kerr's Ladies. In 1919, at the age of 14, she began her first season for the Dick, Kerr's Ladies. She scored 43 goals and brought success to the team. She scored more than 900 goals throughout her 31-year career. She had such a strong kick that she broke a professional male goalie's arm. She was described as "close to 6 feet tall, a chain-smoker with jet black hair and a lethal left foot.."  Parr has become an icon for women's football and gay rights. Parr had a partner Mary that she met while working at a hospital. She began this work after politics got in the way of women being able to play soccer after in 1921 the FA declared soccer to be "unsuitable for females". She refused to hide her relationship with Mary even though at that time many people that were gay were forced to hide this.
From a Fifa article:
"Complaints have been made as to football being played by women, the Council feel impelled to express their strong opinion that the game of football is quite unsuitable for females and ought not to be encouraged."
That statement, released by the FA in 1921, banning women's football from being played on affiliated grounds in England, served to stunt the progress of a game that was increasing in popularity, with huge crowds turning out to see women play. That rise in popularity was partly down to the women's game's early superstars, one of whom was arguably the most outstanding women's player of the early 20th century.
At the age of 73, Lily Parr died from breast cancer.
https://www.bbc.com/news/magazine-30329606
https://www.tifofootball.com/features/lily-parr-the-enduring-icon-of-womens-football/
Abby Wambach

By The original uploader was Beefalo at English Wikipedia. - Transferred from en.wikipedia to Commons., Public Domain, Link

By Noah Salzman - Own work, CC BY-SA 4.0, Link
Abby Wambach is a retired soccer player who currently holds the international record for most goals scored (184 goals) for men and women. She has won the Athlete of the Year Award 6 times throughout her career. She also led her team to win an Olympic gold medal and a FIFA World Cup title.
https://www.biography.com/people/abby-wambach-21331043